How To Body Oil Massage for Firm Booty & Thighs - your at-home BBL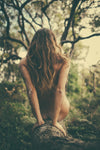 Ever wondered how to firm the appearance of cellulite around your thighs and booty at home using products you have around the home?! Here at Babe Australia, we're all about loving the skin you're in which is why we're obsessed with priming skin to encourage firmness using all the techniques and products we come across!  
We've compiled three of our current favourite ways to improve the appearance of your skin which you can start implementing today using items you probably already have around your home.



1. Target cellulite with at-home French Spa Massage

 

The famous French Spa massage technique called "Palpate Roll" can help tone skin and uses a pinching technique to improve circulation and stimulate detoxification which can help your skin appear more elastic, supple and glowing. Using a body-oil (or coconut oil from your pantry) simply start massaging your thighs and hips with a gentle pinching motion using your fingers and hands like you're pulling up dough to knead it! Start this massage technique from above knees and head toward the creases in your leg between your thigh and torso to assist with lymphatic drainage. Avoid any varicose veins. The French know what's up, and it seems that no matter how many croissants with butter they devour, their skin seems flawless...well that's the theory, and we're sticking to it! So please excuse us while we run to the bathroom and spa! 





2. Dry Brush for lymphatic drainage


We've been obsessed about dry-brushing here at HQ for a reeeeealy long time which is why you may have heard us speak about the technique before, but we keep banging on about it because it just feels sooooo good and it's so easy to fit into the routine! Grab a soft bristle brush like a shower brush and start brushing skin gently in upward movements toward your heart. Start at the feet and make your way up your legs, then from your fingertips up to your shoulders and so on and feel that tingle as your body is stimulated. Dry brushing helps stimulate circulation, remove scaly skin and aids in the general detox process. Here at Babe, we like doing this after the shower twice a week!
3. Harness the power of Antioxidant Vitamin E

Antioxidants can help the skin repair and vitamin E is a powerful antioxidant for minor burns, surgical scars, sun damage and acne scars. Simply moisturising with products high in Vitamin E is a great way to keep your skin looking luscious and bright. You can get Vitamin E based creams at the supermarket, but this is where we do a shameless plug for one our fav Babe products because it's just so freaking amazing! Made with Watermelon oil, Babe Superfuit body oil is a divine way to treat your skin and is packed with antioxidants to help fight the signs of ageing. We're using this oil for our Palpate Roll massages and are loving ourselves sick in the morning and night after our shower!
Leave a comment
Comments will be approved before showing up.