8 Goal Setting Tips To Keep You On Track For 2020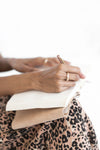 Can you believe we're already more than halfway through 2020? Yep, it's safe to say that the first half of this year has been a bit of a blur!
If you're anything like us, you probably had huge goals to make 2020 YOUR year. After all, it was a new decade — a fresh new opportunity to make those big dreams a reality. 
Chances are, you sat there with your fresh, new diary on January 1st (well, if you weren't feeling too dusty after NYE champagne!) and excitedly jotted down all your aspirations for the year. At that point, nobody could have anticipated the COVID-19 chaos that was ahead! 
Hopefully, all the extra time at home has given you an opportunity to level up your life and work on those projects you've been putting off. But, you might have also had days when you felt too tired and unmotivated to smash your goals. And that's totally okay!
The great news is, the year's not over yet! There's still time to tick those aspirations off the list. Whether you're in a part of the world that's still in lockdown or you're adjusting the 'new normal' check out these 8 goal setting will help you stay on track for the rest of 2020.
1. Do a mid-year goals review
First up, it's time to check in with how you've been tracking with the goals you set at the start of the year. Have you been consistently making progress? Or, maybe you've even already ticked some of them off the list? If so, give yourself an enthusiastic pat on the back! 
There's also a chance those goals fell off the radar by February and have been gathering dust in your desk drawer ever since. If that's the case, that's completely okay, too. Don't beat yourself up! Just make a note of any steps or milestones you've made towards your goals, and set the intention to keep moving forward. 
Next, it's time to assess whether those goals are still actually right for you. How do you feel when you envision them? It's normal to feel a little bit nervous, but it should also be paired with excitement and hopefulness — kind of like that feeling of eager anticipation you had as a child on Christmas eve!
If your goal makes you feel heavy or full of dread, it's a good sign those goals are no longer aligned with your dreams and values.  
It's totally fine if you have to pivot your goals or set entirely new ones. The world has changed a lot over the last six months, and that might mean that your needs and wants have evolved, too. 
If you're dreaming up new goals for the rest of the year, just try to make sure they're SMART ones— that is, Specific, Measurable, Achievable, Realistic and Timely. This will make you far more likely to actually stick to them.
2. Make a plan
Once you've figured out what you want to achieve, it's time to get crystal clear on the how and the when. 
Because the truth is, a goal without a solid plan is really just a wish. And while we're all about wishful thinking (tropical island with Idris Elba, anyone?) we're even more passionate about making dreams into a reality. 
The first step is to break your big goals down into smaller, more manageable tasks you'll tick off over a period of time. Without doing this, your goals can feel way too overwhelming and unattainable — like you're standing at the bottom of a mountain looking up! 
So, be sure to reverse engineer your goals and figure out what steps you would need to take to get from point A to B. If you're not sure, have a cheeky online stalk of someone who has achieved a similar goal, and see if you can supersleuth how they got there.
 Then, map out exactly what tasks you'll need to complete over the next quarter, month, week or even daily to slay your goal.
3. Set your reward
Here's the fun part! While it's super important to have the intrinsic motivation (ie. making sure your goals are aligned with your values), setting external rewards can help give you that extra push to get you through the finish line. 
So, have a think — how are you going to reward yourself when you achieve that goal? Try to make it motivating, positive and consistent with the size of your goal. Maybe if you've saved $20,000, you could reward yourself with a nice staycation in your city. Or, if it's a smaller, milestone goal, you could treat yourself to a yummy body scrub for a pampering day. Write your reward down and keep it somewhere you'll see it often.
4. Buddy up
You don't have to embark on your goal-getting journey alone! In fact, just like most things in life (like funny movies or cheese and wine) it's waaaaay more fun when you share it with a partner in crime.

Research shows that sharing your goals with an accountability partner makes you far more likely to stick to them. This is someone you can check-in with every week or month to chat about what tasks you're both working on and share advice and encouragement. 
Your accountability partner could be a friend, your romantic partner or even a wider community of like-minded people (there are loads of awesome business and accountability Facebook groups out there) 
You could also look at finding a mentor, hiring a coach or joining a mastermind group to give you that extra accountability and support.
5. Elevate your vibe
Let's face it — it's been a toughie of a year! That's why it's more important than ever to get yourself into the right mindset to strive for your goals.
While it might sound a bit 'woo-woo,' we tend to attract positive things into our lives when we ourselves are emanating good vibes. 
So, try to do things for yourself each day that make you feel freakin' ah-mazing and high vibe. It can be something as small as pumping uplifting tunes and dancing around your bedroom, or even just lighting a delicious scented candle.
These little things can go a long way in amping up the good vibes and supercharging your productivity.
6. Build positive habits
Motivation is kind of like a designer handbag — it's nice to have, but we don't actually need it! We all have days when we're feeling unmotivated and would much rather veg out on the couch than build our empire — it's completely normal. That's where our habits step in to save the day! 
When you have positive habits in place, you don't need to rely on motivation. Kind of like brushing your teeth or washing your hands, taking action towards your goals becomes so automatic that you don't really even have to think about it.
Research shows it takes 28 days to build a new habit. So, consider creating a habit tracker you can tick off every day — whether it's working out, drinking 8 glasses of water or putting $5 into savings — until it becomes second nature. 
7. Ditch the to-do list
"What? But how will I ever get anything done!?" you might be thinking. But contrary to popular belief, being productive doesn't mean having a to-do list longer than your nail regrowth after three months without a manicure. Quite the opposite, actually! 
Having a neverending to-do list filled with today's, tomorrow's and someday's tasks can be completely exhausting and overwhelming. You can become so paralysed by the thought of having to do all the things that you end up doing...well, nothing!
Of course, it's great to have an idea of when you're going to do certain tasks — that's what step two: make a plan — is for!
But, to make consistent progress towards your goals, consider swapping your traditional to-do list for your 'big three.' That is, your three biggest priorities for the day — your VIP tasks. These are the things that if you got done, would make the day a total win. Anything on top of that is just a bonus! 
Not only will this ensure you're actually taking action that matters, but it will also help alleviate that guilty feeling that you should always be doing something.
8. Check-in regularly 
We've all heard the expression "out of sight, out of mind." You might think about it in relation to those chocolate cookies you hide in the back of the pantry so you don't inhale them in one sitting. 
But, it works the opposite way too! It's important to keep your goals at the front of your mind all the time — not just at the start or end of the year.
Try making time to check in with your progress towards your goals once a week — whether that's on a Sunday night or a Monday morning.
It's also a good idea to keep your goals somewhere you'll see them. This could mean making your vision board your phone wallpaper, or writing your goals out on a whiteboard above your desk. By having these visual reminders, you're more likely to keep your goals in your subconscious and align your action towards them.
By following these goal-setting tips, you can slay 2020 — and beyond! — like the absolute boss babe you are. 
Leave a comment
Comments will be approved before showing up.