8 Body Confidence Accounts To Follow On Instagram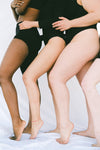 If you've been feeling a little more self-conscious about your bod since COVID hit, you're not alone. The combo of more time surrounded by mirrors at home, more boredom-scrolling on social media, less exercise and the overall impact of the pandemic on our mental health can make even the most confident queen feel less-than-fabulous.
Even though we know you're an absolute megababe, we also understand that saying "just love your body!" is easier said than done. That's why we're all about taking practical steps to remind you just how beautiful, strong and amazing your body is.
One of our absolute fave ways to do this is by doing an audit of who you're following on social media. After all, we spend so much time online that the media we consume can really affect our mindset. So, we highly recommend unfollowing anyone who makes you feel anything less than amazing (trust us, they won't even notice). Instead, fill your feed with people who make you feel uplifted, inspired and as Lizzo would sing 'Good As He-ell!'
To help get you started, we've compiled 10 of our absolute fave body confidence Instagram accounts. Covering a diverse spectrum of body shapes, they're an amazing reminder you can feel confident and bangin' at any size. Get ready to get your follow on!
8 must-follow body confidence Instagram accounts
1. @tiffanyima
Whenever we need a little pick-me-up, Tiffany's account is our go-to. Not only is her Instagram feed filled with stunning snaps where her confidence absolutely shines through, but she's all about making body confidence simple. We can always rely on her to share super actionable, bite-sized tips on how we can all be kinder to our bodies. 
Follow @tiffanyima
2. @danaemercer
Danae keeps it real, and we absolutely adore her for it. Despite living in what would be considered a thin and athletic body, the ED survivor proves that what you see on Instagram isn't always reality. She shares 'before and after' snaps that remind us what a difference posing, lighting and angles make when getting the 'perfect' shot (aka. the one out 100 an influencer takes before posting it on Instagram) She also reminds us that cellulite and stretch marks are absolutely normal (and beautiful!) at any size.
Follow @danaemercer
3. @kindfulbodymind
The gorgeous Sarah Knight is a body image rebel with an excellent cause. Her ethos is that you don't have to love how your body looks in order to accept it. She believes that your body is so much MORE than what it's aesthetic — it's a vessel for life. We couldn't agree more, and we think it's an awesome, realistic approach to building a better relationship with our bodies. She's also passionate about breaking down the stigma around eating disorders, and offers coaching and support groups if you need a little extra helping hand.
Follow @kindfulbodymind
4. @chessieking
 If you're not already following the absolute ray of sunshine that is Chessie King, you need to get on it, ASAP! The author and presenter is goofy, positive and absolutely oozes confidence. Whether she's blessing us with a booty shake, or getting real about her journey with body love, her feed never fails to brighten our day.
Follow @chessieking
5. @celebface
Here's a body confidence Instagram account that's a little bit different. Featuring posed photos vs candid shots from celebs and influencers, it reminds us of the stark contrast between Instagram and reality. The purpose of the account isn't to bring other women down — after all, the ladies in the shots look absolutely stunning in both photos! But rather, it's a super important reminder to take what you see on your feed with a grain of salt. After all, even models' bodies don't look 'perfect' (because it doesn't exist) all the time — so why should yours?
Follow @celebface
6. @abbiechatfield
You might remember Abbie as the feminist queen from last year's season of The Bachelor Australia. While she's sadly not on TV screens right now, the good news is she continues to share her Gemini goodness through her Instagram account. She isn't afraid to speak out on topics like body confidence and sexual empowerment and does so in her trademark hilarious and candid way. She's also great body love inspo for the 'in-between' gals who are kinda curvy, kinda petite and kinda slim — which can be rare to find online.
Follow @abbiechatfield
7. @fitfatandallthat
If you need some more 'good Juju' on your Instagram, this feed is a must follow. The sweet, sassy and smart JuJu is an eating disorder recovery coach, and often shares her pearls of wisdom on making peace with your body. Her account is also great for travel, lifestyle and wellness inspo, served up with a strong dose of body confidence.
Follow @fitfitandallthat
8. @bren_hucks
If there was ever an Instagram account to remind us of the incredible feats our bodies can pull off, it's Brenna's. After losing her leg to cancer at the age of 14, she went on to become a 2 x gold medalist Paralympic snowboarder. She's also a young mum of two, which is almost as much of an impressive feat if you ask us! Bren loves her body for what it does and what it has been through — not just what it looks like — and inspires us to do the same.
Follow @bren_hucks
So, now you know who to follow for body positive vibes. Now, it's time to learn how to pamper that beautiful body of yours. Follow us over on @babeaustraliaofficial for more self-care and self-love inspo. 
Leave a comment
Comments will be approved before showing up.