10 Interior Styling Instagram Accounts To Follow For Decor Inspo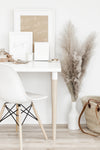 If you're anything like us, you've probably felt a bit restless lately. Months of doing the same routine, in the same house, wearing the same trackies-and-sweatshirt combo (no? Just us?) has us seriously craving change and adventure.
While booking a vacay in some far-flung destination probably won't be an option anytime soon, the good news is there is another easy way to shake things up. And that's giving your home a makeover! After all, you know what they say — a change is good as a holiday.
You don't necessarily have to do a full-blown renovation or move into a new house to give your space a refresh. With some clever interior styling (and maybe a spot of decluttering!) you can easily breathe new life into your space.
Not only will the process give you instant #goodvibes, but it will also give you the sense of a fresh start (which TBH, is what we all need right now)
But, where do you even start when it comes to styling your home? If you're in need of interiors inspo, Instagram has got the goods! To help get your creative juices flowing, check out these 10 interior styling accounts you should be following.
Whether you're into a beachy boho vibe or are more of a fun, bold gal, there's something for every aesthetic.
10 Instagram accounts to follow for interior design inspiration
If you're into a clean and sophisticated look, Perth-based interior stylist Tarina Wood is an absolute must-follow. She has a knack of picking the exact right pop of colour to add to her styling to keep things interesting, without being overpowering. We also love that she always tags the products she uses, so that we can easily steal her style!
Cosy styling is the name of the game when it comes to Marie's feed. The German blogger is amazing at making spaces look homely and lived-in, while still super aesthetically-pleasing. If you're working with a small space like an apartment, her account will have you bursting with inspiration. While we might not be able to read her captions, the abundance of plants and cute cats in her pics makes up for it.
Here's a slightly different type of interiors Instagram account! The Home Edit are as much as what you can take away from your space, as what you should add. From chaotic pantries to overflowing wardrobes, they're all about decluttering, organising (and sometimes even colour-coding) spaces — and dang is it satisfying to watch! So much so, that they recently just got their very own Netflix show where they makeover celeb's homes! Heaven.
Kelly Mindell of Studio DIY is a great reminder that you don't always need a minimalist, monochrome colour palette to have a beautiful home. Sometimes, more really is more when it comes to colour! Her ethos is all about 'embracing colour and making life a party' and we're totally here for it. If you're looking to add more fun and vibrancy to your feed, give her a follow ASAP!
There's so much to love about this account, we don't even know where to start! Firstly, how kickass is it that three mums are taking on the traditionally male-dominated industry of home construction? Their stunning makeovers inspire us to put on our hard hats and renovate our homes. But, even if you don't have the capacity to do that right now, their feed is full of gorgeous styling that's sure to inspire.

Okay, so Brisbane-based Rachel Aust might not be an interior designer per se — she's actually a professional wellness coach and blogger! But, there's no denying it, the girl has a magnificent eye for aesthetics! She merges a minimalistic look with warm, earthy touches to create a home that wouldn't look out of place in a magazine. Oh, and she has plants, if that's your thing — lots and lots of them!  

If bright, white and beachy is your aesthetic, you need this account in your life! Interior designer Catherine Hegharty has the coastal chic look down pat. She's a master at adding texture and colours to otherwise minimalistic spaces so they don't feel too sparse or clinical. So, if you've been wanting to learn the art of arranging your pillows and blankets in an 'effortless' way, she's your gal.
Keen to get your hands dirty with some DIY projects (not literally of course — we're all about the thorough hand wash!) ? This is the account for you! Townsville-based blogger Kristine is a self-proclaimed "habitually lazy organising enthusiast, failed minimalist, crafter, DIYer and decorator" and we honestly couldn't love her more. From her gorgeous, pastel aesthetic to her relatable and accessible DIY tips, we're utterly obsessed.
Do you dream of living out your own 'Under The Tuscan Sun' fantasy and moving to a quaint cottage in the countryside? This account is for you. The name 'Buttermilk Rose' sounds exactly like this feed looks — creamy, dreamy and rustic. Shelley combines French, Scandinavian and English country interiors in such a beautiful and unique way, and we can't get enough.

If you vibe with an earthy, boho look, you can't go past this account. After all, it doesn't get much earthier than the deserts of Joshua Tree! Owners Sara and Rich Comb have done an amazing job at transforming this 1949 Hacienda into a stunning, spiritual sanctuary. The good news, if you happen to fall a little too in love with it, you can actually rent the house (as well as their other property in Tucson. Well, when we're allowed to travel again, anyway!
Revamping your home doesn't have to mean spending thousands on new interiors and furniture. Even just by adding a few little touches like candles and diffusers, you can make your nest look, feel (and smell!) like brand new. Shop our home collection here.
Leave a comment
Comments will be approved before showing up.